History
History of committed, professional writing
Andrew Kirby's first novel was completed at the tender age of five; a twenty page epic, it was read and reviewed by a South Wales Librarian who provided the quote for the back cover of the novel which read: "A promising first novel for the new tyro of the writing game." 'The Temple of Jerosca', an irreverent look at a day in the life of a sandcastle, combined the genres of adventure fiction and postmodern literature, and although it was never submitted for publication, proved a first taste of the writing drug for the young writer- a drug to which Mr. Kirby remains highly addicted. Following the success of The Temple of Jerosca, Mr. Kirby continued to write creatively, and received publication recognition with a short story on wildlife conservation which won him a year's free swimming pass at the age of ten.
A Deal With The Devil
Following his university degrees in English Literature (MA and BA), Mr. Kirby began to lose his way however, and sacrificed his writing ambitions at the altar of money for a number of years. After years as a poor student, the need to pay off debt and the pressure to enter into the sham society of wealth meant that he began to shy away from writing for a number of years. Fortunately, these wilderness years have proved a rich seam of material from which some of his writings have been mined. Gradually, Mr. Kirby's creative instincts began to be reawakened; his job began to involve more and more writing- PR, copywriting, blogging all were key parts of his role as a Marketing Manager for a company within the security industry. He began to shake off the deep sleep… his technical writing began to be published in industry press and in other forms of media. Finally, he had the idea for his novel- based upon some of the knowledge acquired from working within the electronic security industry. Shaking off the final complacent weariness, he penned his first novel, The Magpie Trap.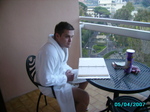 Quick Tasters
Andy's features and non-fiction articles have been published through a variety of media- websites, brochures and newspapers. These articles include reviews for local Leeds publication Itchy Guide.Click on the following links for two quick tasters: