Reviews
Reviews
Bully: A Novel
Simon Bestwick, Author of Pictures of the Dark & Tide of Souls:
"a fierce, impassioned and very powerful piece of writing. It's bloody good, basically..."
Anna Stephens, Author of Calestar:
"Bully is a very accomplished second novel for AJ Kirby. There are flashes of brilliance in this well-crafted horror tale and a sure forewarning of some more excellent fiction from this talented new writer."
Guy Mankowski, Author of The Willows in 10 Journeys:
"This book stands head and shoulders above its genre... This is a highly accomplished work of psychological fiction. Kirby's writing... is impassioned, visceral, and shockingly powerful. The dialogue in particular stands out for how convincing it is, which only makes the impact of the novel harder as it reaches a conclusion."
Andrew McQuade, Gorezone Magazine, Issue 60:
The work of 'a talented writer'. There are 'moments of genuine intensity in the horror scenes'.
Tyson Mauermann, Speculative Book Review, November 2010:
Bully is "a deep psychological thriller." "The book constantly keeps you on your toes...", "Bully is an interesting character with a shady past (...) When Bully returns back to his hometown in England he notices that things are not as they seem and that something is amiss. Kirby does an excellent job of describing the tiny hamlet and the various idiosyncrasies. The world building and characters are very well done."

"Bully is fast paced and a quick read. It reminds me a little bit of Stephen King's IT" and "In the end, it is a interesting psychological horror that may be just what you are looking for if you like the strange and unknown. It also does a fairly good job of subtly discussing post-tramatic stress in all of its many forms."
Hannah Glick, Books Editor, Leeds Student Newspaper:
"Reading this book is like trying to get to sleep after drinking too many vodka red bulls..."
" ...Where Kirby really shines is his naturalistic, boisterous dialogue. It is rare to read speech that is written as it should sound and it has worked to tremendous effect in this novel."
" On picking up BULLY, I could tell I was in store for something sinister. But it was more than that; it was horrific, bitter, twisted and aggressive... If you like your stories dark and dramatic, it may well be your type of book."
Briefs
The View from Here Magazine on 'A Galaxy far, far away' in the 8 Rooms anthology: 'Humour is Kirby's weapon...'

Paul L. Bates, on the website, 'Distance Swimmer' on 'How to Kill an Hour':

"You may want to run up and down stairs just to calm down after reading this one."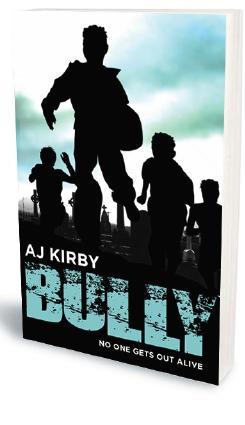 Short Stories
On 'Mix Tape: The Collected Short Stories':
Review by Alex Thornber for The Short Review, May 2010: 'Overall Kirby's Mix Tape is aptly named, for not every story in here will please everyone but every one is written brilliantly. Kirby has a great talent for writing well across genre boundaries and therefore has something special to offer readers with wide and varying tastes.'
On 'How to Kill an Hour' in CONE ZERO:
Review by Mario Guslandi for Horror World Book Reviews, November 2008: '"How to kill an hour" is a wonderful tale of madness, but also a twilight-zone yarn of time shifting and premonition. A deeply disturbing piece, told in a very effective narrative style, which conveys a sense of gloom and helplessness.'
From 'The Workshop of Filthy Creation' : '...a very vivid and intense story and is unlikely to fade quickly from memory.'
On 'A Galaxy far, far away' in EIGHT ROOMS:

Sophie Erskine, 3:AM Magazine: 'As A. J. Kirby's picture of domestic life in this collection demonstrates, you don't have to write about something long-winded, special or unusual to write engagingly and amusingly. All things considered, it is a beginning, a middle and an end that make a story - even if not a life-changing one.'
On 'The Allotment':
The Second Hand editor, Todd Dills: 'Channelling Poe, maybe Lovecraft, Kirby spins a tale in which lettuces hold the keys to human lies.'
George Polley, Author: '...one of the finest "relationship" stories I've read in years. Just excellent!'
On 'The Ninth Circle':
Sam Tomaino, SFRevu: 'A grim but effective tale.'
Stephen Hunt, SF Crow's Nest: 'an intriguing story... which brings to mind the film 'Event Horizon'. This tale becomes progressively darker, obscure and depressing until its culmination in a terrible event.'
Rich Horton, The SF Site: 'a curious story'... 'absorbing'... 'the story does keep one reading.'