Paint this town Red
The New Novel, Out Now!
Nominated for the 2012 Not the Booker Prize from The Guardian. Read all the reviews here.

"Like Jaws on land..." Cassandra Parkin, author of the 2011 Scott-Prize winning New World Fairy Tales.
"If you love any horror novels (and movies) involving rabid, possibly evil, man-eating animals (Cujo, Jaws, Jurassic Park, et. al.) give this novel a read. You'll be glad you did." Megan Rattliff, The Reading List
"Kirby draws us in from the beginning with his strong narrative voice and keen sense of humor and drama and keeps us on the edge of our seats until the very end. A highly recommended, unforgettable read." Marilyn Baron, Author of The Edger
"A fun read that was charming at times and wonderfully creepy at others." Lisa Lane, on The Cerebral Writer website
"An all action blockbuster novel of survival, that will keep you reading in the edge of your seat." The Ginger Nuts of Horror
Kirby's "best work comes when he mixes thriller with horror, to compelling, skin-crawling effect. In Paint This Town Red, Kirby has once again ticked the boxes." Anna Stephens. The Hub Pages.
Buy the ebook now from all good online outlets including Amazon US, and Amazon UK.
Or buy the paperback now (price includes P and P for UK locations) Contact the author for other postage options for other countries:
More Praise for AJ Kirby
"Reading this book is like trying to get to sleep after drinking too many vodka red bulls..." Leeds Student Newspaper.
The work of "a talented writer". There are "moments of genuine intensity in the action scenes". Gorezone Magazine.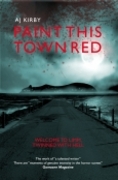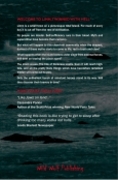 You're Either Red or You're Dead
Limm is a small town on a picturesque tidal island. For much of every day it is cut off from the rest of civilisation.
Its people are insular. Self-sufficiency runs in their blood.
Myth and superstition have become their currency.

But what will happen to this close-knit community when the deepest, darkest of these myths starts to come to life, red in tooth and claw? What happens when the island comes under siege from external forces, hell-bent on tearing the place apart?
The moon waxes. The tide of Darkness swells. Soon it will reach high-tide, and all the pretty Dark things which have heretofore remained hidden will come out to play. Will come to Paint the Town Red...

Only the unlikeliest bunch of reluctant heroes stand in its way. Will they discover their bravery in time?
Order your exclusive, signed copy now!
Email the author for details on andrewkirby92(at)btinternet.com