Features
Sample Feature
A.J Kirby's features, reviews and articles have featured on a variety of websites. Follow the links to read all about whatever nonsense pops into his head:
A State of the Nation address, published in the Home Defence UK webzine, featuring rants about subjects as diverse as Indiana Jones, killer hedges, David Cameron and Peter Kay can be read here.
From Itchy Leeds Magazine
When Zombies go badass in Leeds
More examples of A.J Kirby's writing in print can be found in the 'Itchy Guide to Leeds'. Although these features are supposed to be non-fiction, Andy's writing style shines through in this writing- he imagines aliens invading Leeds City Centre as a part of his Pub Crawl guide below:
Your Mission
If, as the film The Matrix predicts, we will soon live in a world ruled by malevolent robots, where reality is in fact an illusion to cover up the fact that human beings are slaves, then why not make that reality as fun as possible? Escape the mind-numbing boredom of nine to five drudgery by 'getting fresh' at the weekend, as Mel and Kim would advise. And what better way of 'getting fresh' than a pub crawl? Of course, if the makers of The Matrix are right, then you won't have to suffer a hangover because you can simply download a different reality. Or something.
Your mission, should you choose to accept it, is to participate in the sport of pub orienteering. For you outdoorsy-types the route takes in Leeds' vibrant riverside area, the much feted Calls and Call Lane, and involves the avoidance of tricky obstacles such as the temporary open air urinals which now pop up on every city centre street at the weekend. These cunningly disguised monstrosities are actually dormant alien pods awaiting communication from some giant mother ship, at which time they will simultaneously fire laser beams into the unsuspecting pisser in the middle of the street in every major city, rendering humanity all but extinct.
Your urban safari takes in six bars which are within easy walking distance of eachother so by no means should you get lost en route. First up it's Oracle Bar, named in homage to the first teletext service, which was sadly replaced by Teletext Ltd on ITV in 1993.
Oracle Bar, 3 Brewery Place, Leeds, LS10 1NE
Tel: 01132469912
Oracle has the swagger and confidence about it to show its legs in summer, which is pretty understandable given that it has probably the largest outdoor seating area of all of the riverside bars in Leeds. Oracle's tagline advises us to 'Think Pink', however I don't think this is any kind of reference to the dodgy suntan you might get here in the summer months, no, it refers to the cocktail list. Yet despite its bias towards al fresco eating and drinking- the interior ground floor area almost has the feel of a waiting room for the more choice spots on the outdoor terrace- Oracle does have year round appeal as it is ideal for the sport for all seasons, people-watching. At Oracle, it's all about being seen, and here you can rub sun-bronzed shoulders with what is seemingly the cast of The Golden Girls the 'ladies at lunch series' or Hollyoaks 'the return of the mullet'.
People come to Oracle for the location. Set in a cylindrical building resembling a half pint glass in the Brewery Wharf development on the banks of the River Aire, this is frankly an escapist kind of a place, and ideal to get you in a relaxed mood for the night ahead. Instead of teletext, these days we all press the red button on our digital tellies. So if Oracle really is named after the old Teletext service, then the graphics have certainly got a lot better. But, we're working to the clock on this pub crawl, so drink up, the next pub is only a hop, skip and a jump away. If you can jump across rivers. Fortunately, these days the more dangerous methods of either kayaking or pole-vaulting across the River Aire have been replaced by a more user-friendly bridge, which seems to be there for only one purpose. To get people from Oracle to Reclaim.
Reclaim, 38 The Calls, Leeds
Tel: 0113 2453870
Despite this being an apparently relaxing pub crawl, there's good reason to start to walk quickly as you start to approach Reclaim. Why not point out the fountain fashioned from a huge metallic globe to your mates and sneak round that corner and into the bar quickly whilst they are still looking the other way. From five o clock, you face a fight with the rest of the group to be first to get the round in as pitchers of lager are on offer for whatever price the clock says. Get in there for 5.00 and you'll be paying a fiver for your four pints.
Tucked in behind the Calls Bar and Grill this pocket-dynamo of a bar has a maritime theme- the walls are adorned with flotsam and jetsam seemingly dragged out of the River Aire which it overlooks. Hence the name- the timber furniture is reclaimed. Large groups can sit around huge wooden cable reel-style tables next to bits that have fallen off boats which are stuck to the wall, whilst enjoying the eclectic music mix and the cosy feel inside that you'll have bought the cheapest round of the night. Even if you do accompany your pitcher with a bowl of pistachio nuts.
What we're now asking you to do might well be a wrench, but I promise you it'll be worth it. We're asking you to walk past a pub. Something any self-respecting pub crawler would never do. However, there's a good reason. As you leave Reclaim, it's all too easy to switch onto autopilot and take the one small step to the bar of nearby Aire Bar in the blink of an eye. But here's a novel thought. Why not leave Aire Bar 'til the next day- make it part of your recovery session- and instead make that giant leap onto Call Lane and to Jakes Bar- right at the top of the street- but think of it this way, it's downhill on the way back...
Jakes Bar, 27, Call Lane, Leeds, LS1 7BT
Tel: 0113 243 1110
Call Lane is Leeds' answer to those holiday-resort bar streets where you can literally fall from one bar to another, only more upmarket. Jake's Bar is one of the more recent arrivals but this new kid on the block has more than stood up for itself against corporate bullies such as Revolution threatening to flush its head down the toilet.
Despite its close proximity to the Corn Exchange, and the Lost Boys that hang out there, Jakes Bar has not resorted to the gothic look in order to assert its individuality. Nor has it become any other stereotype. It is instead its own, mellow character. The popular kid that doesn't try too hard; the kid that always has people around him at weekends but not the idiots that would spoil things. Yep, Jake's a great guy, whoever he is. But we can't spend all night with him. Our next port of call is on the same side of the street as Jake's Bar. As you walk the 20 or so metres to Oporto, try to avoid the suicidal taxi drivers that endeavour to drop off their customers as close to the door of their chosen drop-off point as possible, whether this means driving on the pavement or not. Also, keep your eyes peeled for the poor glo-stick sellers, and see if you can answer that eternal question- have they ever sold one?
Oporto, 31-33, Call Lane, Leeds, LS1 7BT
Tel: 0113 243 4008
Despite the fact that you can be like the proverbial kid in a sweetshop on Call Lane, and the fact that Norman is flaunting its wares at you from across the street (Norman is a bar, not some seedy flasher) Oporto's superior cocktail list, selection of beers, friendly bar staff and bouncers make it the bar of choice. Boasting a personality all of it's own, Oporto is in keeping with Reclaim by being the kind of bar which could not simply be picked up by a giant and plonked down in another city centre without immediately losing some of its appeal.
Oporto is a Leeds bar through and through, and is even one of the favourite haunts of Leeds' favourite sons, the Kaiser Chiefs. Perhaps it's the welcoming rock and roll music and atmosphere here or the lack of pretention, but it's very hard to leave. But leave we have to. And we're going to make this less of a wrench by the promise of pub games in your next stop.
The Elbow Room, 64, Call Lane, Leeds, LS1 6DT
Tel: 0113 245 7011
Although it's also on Call Lane, the Elbow Room is actually round the corner, past the Fruit Cupboard and up a large flight of stairs. A note of caution here- take your time on the way up the stairs. Panting and sweating profusely is not a good look as you order your first pint. But your senses are rewarded almost immediately by the sight of two floors of American Pool and Table Tennis tables, the tempting smell of the 'light bites' on offer and the sounds of ball-on-ball action (erm, I mean on the pool tables). This is no unwelcoming, stale snooker hall however, some decent names in the world of hip hop and old skool are on the bill here on a regular basis, as well as perennial crowd-pleasers such as Shaun Ryder, who somehow manages to keep the music playing despite being unable to stand up. There's nothing like a bit of friendly competition on a pub crawl, so secure in the knowledge that you have managed to hustle your mates at pool into paying for the round in the next bar, it's time to move on.
The Hi-Fi Club, 2 Central Road, Leeds, LS1 6DE
Tel: 0113 2427353
…And to a club. Throat suitably lubricated, dancing feet jittering to be started, the walk between The Elbow Room and Hi-Fi should afford you the fresh air to sort your head out a bit. The Hi-Fi club is again a fitting testimony to Leeds' thriving portfolio of independent bars and clubs. Jazz, hip hop and soul music never sounded so good as at the end of a pub crawl, and you'll find that the funk lassoos you onto the dance floor without fail no matter how cool and stand-offish you wanted to look.
From teletext to Hi-Fi over the course of the night; our course in electronics is now complete. Little pockets of revolution are beginning against the mind-control robots, and it's through clubs and bars like Oporto and the Hi-Fi Club that we are winning the war to save individuality. If you start to ponder similar things then perhaps it is time to call it a night. And to soak up some of that alcohol which is coursing through your veins, how about a pizza? But not just any pizza.
Upon leaving Hi-Fi club, make your way around the Corn Exchange, holding onto the walls if you need to, and you'll discover Fred's, which sells pizza by the slice. And it tastes like food of the gods. Paying no heed to the tomato sauce and strings of cheese all over your shirt, you'll grab another slice for the taxi queue and then just one more for when you've arrived home and are pondering life and death questions with your fellow crawlers. For instance, with the proliferation of over-priced, show-offish, iced ciders on the market, how soon is it until we get an ice bucket for your cider bottles?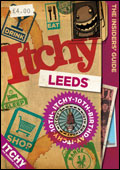 ADVERT: AJ Kirby's features and reviews in 2008 Itchy Leeds Guide
The books are here and ready to fill your back pocket and improve your social life. To find out more about what AJ Kirby REALLY thinks about that bar that you're planning to visit, get yourself a copy from: http://www.itchycity.co.uk/shop/