Cone Zero
Nemonymous 8: Cone Zero
The ambitious and exciting anthology project, Nemonymous 8 Cone Zero, showcases A.J Kirby's as yet unnamed short story. (Due to contractual obligations, the story has to remain unnamed at this stage.) Heralded by one reviewer as "this year's best anthologies", Cone Zero looks set to be one of A.J Kirby's finest hours.
Are you listening at the back there? You child, with the Parka hood up all over your fizzog? Or what about you with the Jesus hairdo? Are you listening to me?
OK, nobody is... but who cares. The CONE ZERO anthology features 14 different authors, 90,000 words, and a partridge in a pear tree.
For more information on the Nemonymous series, please visit the Nemonymous page on Wikipedia and for the full review, please click here.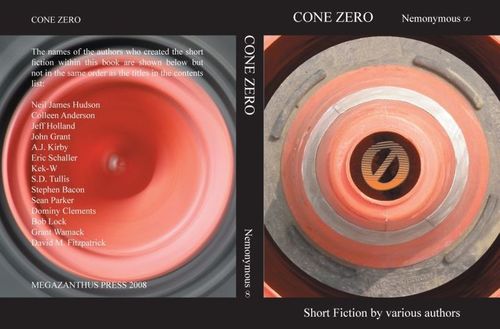 NOTE:
CONE ZERO will cost £9 - inclusive of UK postage and of 'Surface Mail' only elsewhere. (Please enquire for other forms of payment or postage). Payment by Paypal to bfitzworth@yahoo.co.uk
And advance orders for Cone Zero (ie before 4 Jul 2008) will be subject to special generous deals on the 'staggeringly important' ZENCORE! and other previous editions of 'Nemonymous'. These deals are subject to application, by writing to the above email address.