Screenwriting
Love Triangle
...They were a genuine boy-band sensation, thrust upon the nation in the late 1990s; women swooned, men wanted to be them. They lived fast, but clean. Who could forget their string of Top 40 hits which included 'Let's Get Together', 'Save me Tonight', and 'Shake yo' Ass'?
Of course, who can forget them... they were bigger than the Beatles, man.
The writer A.J Kirby joins musical gurus Micky P Kerr, Davoc 'Ladyman' Brady and Matt 'The Echo' Knee as they chart the reunion of Love Triangle in this amusing rocumentary. Here's a sneak preview of all the thrills, spills and bellyaches which will be coming soon (including their brand new music video.)
The six-episode series could change your life...
The Boys
...in full Love Triangle get-up. Or should that be GET DOWN?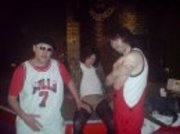 On a video shoot, the lads get up to some jolly japes.