Coming Soon: Mix Tape, the Collected Short Stories of AJ Kirby
Mix Tape: The Collected works, 2007-2009
"Kirby's Mix Tape is aptly named, for not every story in here will please everyone but every one is written brilliantly. Kirby has a great talent for writing well across genre boundaries and therefore has something special to offer readers with wide and varying tastes." Alex Thornber, The Short Review, May 2010. Read the full review here and an interview with the author about the compilation of the collection here.
Product details
Paperback: 172 pages
Publisher: New Generation Publishing
ISBN-13: 978-1906558802
Product Dimensions: 22.9 x 15.2 x 1 cm
Now, and for the very first time, the prize winning collected short fiction of AJ Kirby is available in one volume. MIX TAPE is available to purchase from this very site, and contains over twenty stories. From an old man who finds his lost wedding ring inside a cabbage to a shadowy magician who makes his audience 'disappear' and from an autograph hunter to a man who believes that he holds the fate of the whole world in his hands, from a sinister web-stalker on the search for a male stripper who he believes has had an affair with his wife to a skeleton in a closet, MIX TAPE takes the reader along the rock-road journeys through the weird, the wonderful and the wild.
(Also available from Amazon, Barnes and Noble, Borders.)
Buy Now!
Includes package and postage within the UK. For all other locations, please enquire.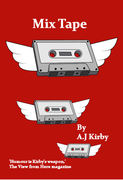 Welcome to Mix Tape
Welcome to the first volume of the collected works of the writer A.J Kirby. Because Andy is something of a technophobe, the stories are arranged like an old-school mix-tape, or a %u2018Greatest Hits' catalogue. And like all good mix-tapes, they chart the mood of the party, from the excitable, laughable and crazy-ass to bitter-sweet and then maudlin, and finally chilled out...

There's something here for everyone, from straight literary fiction to horror and from fantasy to bizarre. There's love, hate, torture, murder within these pages, and much, much more.

These pieces have been published on-line, in periodicals, journals and magazines, but this is the first time they have appeared in one volume.

And like all good mix-tapes, there's a bonus, unpublished piece to watch out for...

Enjoy!